Power Steering Fluid Service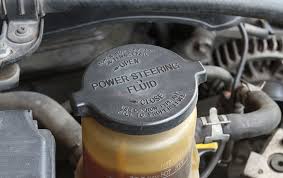 Power Steering Fluid Service St. Louis Auto Repair At Jammin' J Auto we offer many services that can help you improve the daily performance of your vehicle, as well as increase safety and lower the costs of operating your vehicles.
One of these Services is a Power Steering Fluid Service.  Many times, drivers will notice odd noises, inconsistent or erratic steering when they turn the wheel or they may even see fluid leaking from the power steering pump.  These symptoms can have different causes, but one is the breakdown of the viscosity of the power steering fluid or just that the fluid itself has become contaminated and it is not doing the job it was designed to do for the power steering system.
In most power steering systems a high pressure pump is used to pressurize hydraulic fluid to assist you in turning the steering wheel. This pump is driven by a pulley that is turned by a belt and can put out up to 1000 psi of pressure. This hydraulic system has a high and low pressure side and this pressurized fluid needs to be transported to the rack & pinion or steering gear under pressure and this is done through rubber hoses with aluminum high pressure fittings. The Power Steering fluid is returned to the pump under lower pressure usually through rubber hoses with clamps.
Here is why it is so important to have your Power Steering Fluid replaced or flushed:  the first time in the system that the high pressure fluid hits a rubber hose it actually sandblasts the rubber hose. Power steering fluid will often be dark in color and upon closer observation you can literally see rubber specs in the fluid. These particles are not good for Power Steering Pumps, Rack and Pinions, Fluid coolers or anything else in this system. Some vehicles have filters in their reservoirs that get clogged and cause pump cavitation where air bubbles go through the pump and make all kinds of noise and damage the pump.
During this service, our trained technicians will use a system to not only replace the degraded power steering fluid, but clean, soften and condition brittle seals and remove any contaminants that have accumulated.
Having clean and conditioned power steering fluid will help eliminate steering squeal, smooth out jerky or hard steering, and keep the parts in the power steering system working better for a longer time.
This service is recommended before your vehicle reaches 100,000 miles and then every 30,000 miles thereafter.  Give us a call at Jammin' J Auto to have your fluids checked and schedule this service.  Ask about the Lifetime BG Protection Plan® and 6 months free Roadside Assistance.