Engine Performance Service
Engine Performance Service St. Louis Auto Repair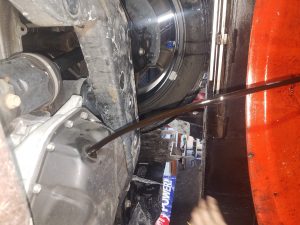 Keeping today's vehicles running long term takes a comprehensive approach to preventative maintenance.  One of the more important aspects to this is a service that we provide here at Jammin' J Auto.  An additive is added to your vehicle's old oil that dissolves carbon and run through the engine for 30 minutes, then drained out.  The new oil is added with a Motor Oil Additive (MOA) that helps your oil do a better job by maintaining viscosity and preventing debris. This service will remove carbon deposits from valves and combustion chambers in the engine, helping keep the moving parts in your engine moving smoothly.
This service can be very beneficial to older engines that have gone too long between oil changes and the engine is starting to see some decline in performance from thick and/or debris filled oil.  But it isn't just for the older, high mileage engines.
We have seen several of newer engines with lighter weight (low tension) piston rings that require this service regularly to maintain good engine function.  See our blog "Best to check that oil" for more information as to why these piston rings are not performing the way they should. These newer engines are actually suffering early failures because of the carbon building up inside the engine especially in the piston rings causing them to get stuck and letting oil seep past them and the engine very efficiently burns its own lubrication (oil). This causes poor fuel efficiency, a loss of power, lack of responsiveness, excessive smoke and yes, even engine failure.
Our EPR service remove deposits from valves and combustion chambers, it dissolves sludge and varnish, cleans stubborn oil deposits, cleans micro passageways in gasoline direct injection engines, restores engine balance and power and improves spark plug life.
When performed early and regularly, this service will lengthen the life expectancy of your engine and provide improved fuel efficiency, more reliable engine performance, save you money at the pump and provide a longer oil change interval (5,000 miles).
As an authorized distributor of BG Products, Jammin' J Auto Technicians have received specific training on the proper procedure for this service. The BG Engine Performance Service is backed by the Lifetime BG Protection Plan® if the initial service is performed within the first 100,000 miles and at regular intervals.  Ask your Jammin' J Auto Service Writer for details of this program and whether your vehicle is a good fit and to get more information on 6 months of free roadside service (no subscription necessary).