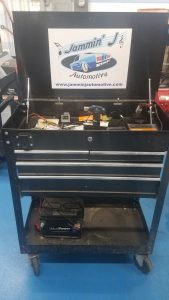 Trailer Repair Services St. Louis Auto Repair We know that when you need your Utility, Equipment, Enclosed or Car Trailer, you need it to be road ready and in working order.  Whether you are a small business with a fleet of trailers hauling products or equipment or if you are an individual with that special need to haul something a few times a year, your trailer has specific needs.
A broken down trailer can spoil a trip or cost you valuable production just like a vehicle breakdown. Here at Jammin' J Auto, we have a lot of experience with trailers.  This experience includes re-wiring the electrical system, welding, servicing and/or replacement of axles, as well as tires and wheels. We also can replace and repair lighting systems.
Often, we find that one or none of the brakes are not working on customer's trailers. This can be because a simple wire has been cut or sometimes the entire braking system needs to be replaced. Here at Jammin' J Auto, we can get your trailer stopping correctly and safely.
Another common repair need that we see is loose wheel bearings. Typically, trailers that are missing the grease cap that keeps the wheel bearings clean and dry will see the grease start to get washed away. When this happens, the wheel bearing eventually will lock up and the wheel will come off. When the bearing locks up it changes a small repair of greasing the wheel and repacking the bearings into a costly replacement of the entire axle as the damage done by using a trailer with a locked bearing is normally too extensive to continue using the axle.
We have the vehicles with the proper hook ups on site to move your trailer as needed while it is in our care and most times will not need you to also leave a vehicle with the trailer to have it repaired.  We have partnered with several trailer part retailers in our area to help find the proper parts needed for your specific trailer.  And, we also can handle the maintenance needed on the vehicles used to pull these trailers.  See our Fleet Services page for more information on our ability to help with your total fleet servicing needs as we desire to be your one-stop shop for Fleet Maintenance.
At Jammin' J we have created what we refer to as the Trailer Triage Cart, with an installed 7 pin trailer connector attached it allows us to plug directly into your trailer's lighting and braking system quickly to test all the circuits. Then, if any electrical wires need to be repaired or replaced we have everything available to complete the repair. We have created this proprietary equipment and systems to help streamline this process to keep your repair costs as reasonable as possible.
If you are having trouble with your trailer, give us at Jammin' J Auto a call to schedule a time to evaluate your needs and put together the best plan to get you back on the road.