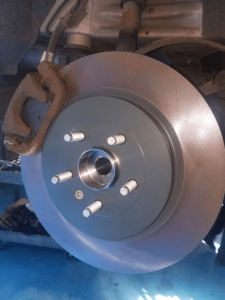 Brakes St. Louis Auto Repair Brakes When we say 'Brakes', everyone tends to think of the brake rotor and the pads that actually touch the wheels and do the actual 'stopping' of the movement of the vehicle.  But the term 'Brakes' really means 'Brake System'  The entire system includes the Master Cylinder and ABS unit which control the hydraulics of the system, the yards of brake lines and hoses that transport the brake fluid to all four wheels, the emergency brake, the ABS computer and its sensors, and the brake pedal itself inside the vehicle.
This system is one of the most important to your safety.  Knowing what to expect when you press on the brake pedal; means a lot to not only you and your family, but to other drivers on the road with you.  Modern brakes use mechanical, hydraulic, and electronic components to provide power-assist and stability-control features such as collision avoidance.
Heat is one of the biggest issues with brakes.  It is critical for your brake system to be able to dissipate the heat created as quickly and efficiently as possible.  Excessive heat can damage not only the brakes, but also wheels and wheel bearings. Many of today's brake rotors incorporate a fin system to help dissipate the heat from braking.  When a rotor becomes damaged, this can impair its ability to get rid of excess heat and then other things will begin to need repair.
The brake fluid is an integral part of the system and one that does not get discussed often enough.  During our standard vehicle check, we will take a sample of your brake fluid to show you if there is a need to flush out the old and replace with new.  Jammin' J Auto will recommend a Brake Fluid Flush when we perform major brake repairs, if the fluid is dirty, or if the vehicle mileage indicates it is time for this service.  Our flush system removes the old fluid, cleans the lines and replaces with new fluid for the best results.
Brake Service – what to expect.  When you bring your vehicle to Jammin' J Auto with concerns about your brakes or if we see during a routine vehicle inspection that your brake system requires service, we will need to test drive the vehicle to test the braking at low and high speeds, and put the vehicle on a lift to look over the components involved and see how things look.  Brake system service is not a cookie-cutter operation that can be priced accurately until the vehicle has been looked over by a well-trained technician.
Signs that you need to find a brake service repair shop for your vehicle often fall into one of two categories: you brakes are making noise or you are feeling a pulsation in the brake pedal when braking.  For details on brake service, see our blog HERE.  Our team at Jammin' J Auto in St. Louis can determine the cause of the noises and the pulsations that you are feeling when braking and remedy the problem.
A regular brake inspection is on every vehicle's recommended list and is included in most of our services at no extra charge to you. Ask your friendly and knowledgeable Jammin' J Auto service advisor if it's time for brake inspection. Give us a call at 314.423.3876 to set up your appointmenBrakes St. Louis Auto Repairt now.