Welcome to the Jammin' J Auto & Tire Customer Care Rewards Program!
Rewards St. Louis Auto Repair. Here at Jammin' J Auto & Tire, we are grateful for your business and want to reward our Loyal Customers!
Once you have utilized our shop for any repair or service, you will be Welcomed into our Rewards Program!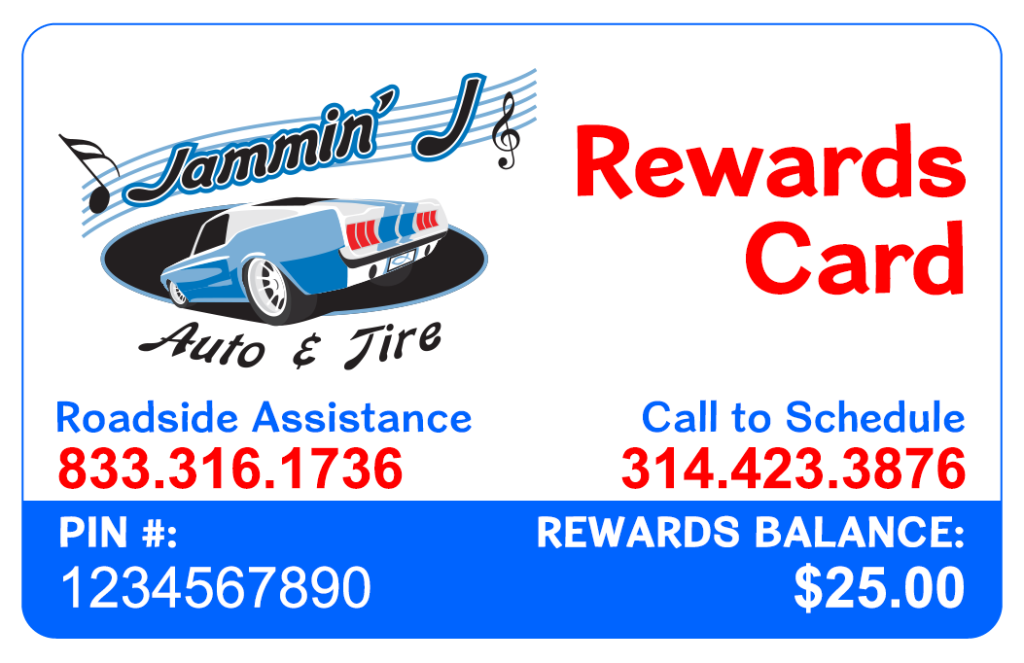 CUSTOMER CARE REWARDS PROGRAM DETAILS
Reward Dollars: With every purchase, up to 3%  of your invoiced amount will be added to your Rewards Card to use towards future services at
Jammin' J Auto with a maximum earned of $100 per visit.  A Maximum of $100 of Rewards can be used on any one visit.
Charitable Giving: You may donate your Reward Dollars to local and national charities. Watch your email and text messages for donation opportunities.
Referral Program: Earn Reward Dollars for every new customer you refer.  And your referred friend can receive Reward Dollars on their first visit if you give them the Referral Card.
Earn Free Oil Services: Every 5th oil change on your account is FREE (max value $100) .  Which means if you are a multi-car household, you can earn that FREE oil change faster.
Membership is FREE: Look for more benefits and special offers in the mail or by email.
Digital Alerts: Receive triggered email and SMS alerts; you may opt-out at any time.
24-HOUR ROADSIDE ASSISTANCE
To earn your lifetime business, we do more than service your vehicle — we provide safety and peace of mind. That's why we offer a 24-Hour Nationwide Roadside Assistance Program designed to help you in the event of an emergency.
Towing
Emergency fluid delivery
Lock-out
Jump start
Flat tire repair
ROADSIDE ASSISTANCE INSTRUCTIONS
Call the Roadside Assistance phone number on your Jammin' J Auto Rewards Card. You will be instructed to provide your Pin Number located on the back of your Rewards Card.
If your vehicle needs to be towed and you are within 100 miles of Jammin'  J Auto,  you must instruct the tow truck operator to bring your vehicle to our location.
Roadside Assistance benefits can be used up to two times per 12 month period. Maximum coverage per occurrence: Local: $100.00. Na­tionwide: $150.00.
ROADSIDE ASSISTANCE TERMS & CONDITIONS
Your Roadside Assistance benefits automatically renew for one year when you have your vehicle(s) serviced by Jammin' J Auto 2 times in the previous 12 months.
Roadside Assistance is provided to customers at the discretion of Jammin'  J Auto.  Jammin' J Auto  reserves the right to change this benefit at any time. Excessive or improper usage may result in the termination of this benefit.
Rewards do not carry cash value and are valid only at Jammin' J Auto.  Rewards cannot be combined with any other offers or discounts.  Some Reward Dollars may have an expiration date, please be sure to check when they are awarded.